Our Aims
Bluestocking is an online journal that investigates the intellectual and artistic achievements of women throughout history. In The Second Sex, de Beauvoir (1949) argued that young women lack the stimulus of emulation in the pursuit of knowledge. Many would attribute this lack to restrictions placed upon women in history, and harbour the impression that these restrictions subsequently prevented women from achieving intellectually and artistically. In reality, women's involvement in the progress of all disciplines has been robust, and their influence only later discredited or stifled. Bluestocking acts as a base for critical and insightful research into the work of female thinkers, raising the profile of women as major actors in the history of ideas.
Our Team
Founder: Mona Sakr
General Editor: Emily Oldham
Humanities Editor: Sophie Dowle
Arts Editor: Stephanie Pope
Science Editor: Ellen Murray
Head of Publicity: Millie Clark
Bluestocking is currently recruiting! If you are interested in the role of Science Editor please contact bluestocking.editor@gmail.com.  
Previous Editors: Alice Theobald, Claire Rodwell, Georgia Mizen, Raffaella Tomassi, Leila Molana-Allen, Kate Bowden, Rebecca Gregory, Monika Kreile, Hannah Lee
Previous Team Members: Rebecca Moore, Natalya Din-Kariuki, Helen Robb, Urmilla Nakkeeran, Gitanjali Joseph, Frankee Bryant, Sarah Parker, Chloe McIvor, Signy Gutnick-Allen, Helen Lochead, Katy Routh, Jamie Anderson, Victoria Flynn, Catherine Reeves, Anusha Ravi, Kate Kettle, Katherine Cross, Amy Waite, Jack Coombs, Nichola Davis, Jade A. Louch, Jennie Saywell, Gaia Donati, Janina Cordes, Setareh Masoumbeiki, Riana Patel, Ella St George Carey, Claire Rodwell, Amaris Lee, Anna Simpson, Rachel Jeal, Alice Theobald, Natalie Harney
If you were a member of the Bluestocking team and your name isn't listed above, please let us know so we can add you to the list. Email bluestocking.editor@gmail.com
Our Patrons
Baroness Susan Greenfield CBE
Baroness Greenfield is Director of the Royal Institution of Great Britain (the first woman to hold that position) and Professor of Pharmacology at the University of Oxford, where she leads a multi-disciplinary team investigating neurodegenerative disorders. In addition she is Director of the Oxford Centre for the Science of the Mind, exploring the physical basis of consciousness.
Her books include The Human Brain: A Guided Tour (1997), The Private Life of the Brain (2000), and Tomorrow's People: How 21st Century Technology Is Changing the Way We Think and Feel (2003) and 'ID': The Quest for Identity in the 21st Century published in May 2008 by Hodder Publishing. She has spun off four companies from her research, made a diverse contribution to print and broadcast media, and led a Government report on "Women In Science". She has received 29 Honorary Degrees, Honorary Fellowship of the Royal College of Physicians (2000), a non-political Life Peerage (2001) as well as the Ordre National de la Legion d'Honneur (2003). In 2006 she was installed as Chancellor of Heriot-Watt University and voted 'Honorary Australian of the Year'. In 2007 she was made a Fellow of the Royal Society of Edinburgh.
Nicola Beauman
Nicola Beauman is the founder of Persephone Books. Persephone mainly prints previously neglected fiction and non- fiction written by women, highlighting the literary talents of authors who were not granted the recognition that they deserved within their own eras. Nicola's first book A Very Great Profession: The Woman's Novel  1914-39 was first published by Virago in 1983 and was reissued in 2008 as a Persephone book.  The Other Elizabeth Taylor was published in 2009, also by Persephone.
Nicola founded Persephone Books in 1998 and since then it has gathered dedicated followers from all over the world. The Bluestocking team highly recommend that you follow our link to the Persephone website (http://www.persephonebooks.co.uk) or visit the shop on Lambs Conduit Street in London. We promise that you will fall in love with what you find there.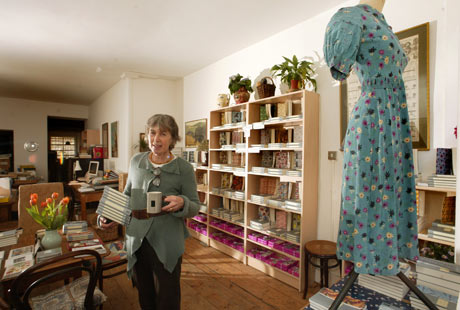 Dr Maria Rubins
Maria Rubins was born and raised in Russia. After graduating from Saint Petersburg State University and a brief period of teaching Russian culture and language at the State Institute of Theatre, Music and Cinematography, she left for the United States, where she received a PhD degree in literature from Brown University. Currently, she divides her time between Paris and London. She teaches Russian and comparative  literature at the UCL School of Slavonic and East European Studies, is a member of the Institut d'Etudes Slaves (Paris) and an associate member of the 'Centre d'Etudes sur la Russie, le Caucase et l'Europe Centrale' at the 'Centre National de la Recherche Scientifique' (France). Her research interests include Russian and French literary and cultural relations, exile, Russian émigré literature, bilingual and transnational writing, Russian-language literature in Israel, and the interaction between texts and the visual arts.
 
Maria Rubins is the author of Crossroad of Arts, Crossroad of Cultures: Ecphrasis in Russian and French Poetry (2000; Russian edition – 2003) and the editor of the volume Russian Émigré Writers of the Twentieth Century of the Dictionary of Literary Biography (2005), a university textbook on Russian émigré literature of the first wave (2011), and collected volumes of academic articles. She has edited and annotated volumes of selected prose by Russian émigré writers of the inter-war Parisian diaspora, including Irina Odoevtseva and Vasily Yanovsky. She has translated from English into Russian Vasily Yanovsky's memoir on W.H. Auden, and from French into Russian Judith Gautier's memoirs on Wagner and several novels by Irène Némirovsky and Arnaud Delalande. In recent years, she has taken part in a number of radio programmes on the culture of the Russian diaspora of the BBC Russian Service, Radio 4 and Voice of Russia. She practices ashtanga yoga and enjoys travelling, downhill skiing, tango and opera.
Getting Involved
We're always looking for new team members at Bluestocking. If you're interested in getting involved, send an email to bluestocking.editor@gmail.com. Let us know:
1. Which position are you interested in?
2. What relevant experience do you have?
3. What do you believe the purpose/aim of Bluestocking to be?
4. How would you like to take Bluestocking forward?
If you would like to write for Bluestocking, please write a short proposal (c. 150 words) for an article and send it to bluestocking.editor@gmail.com. Before you get going, take a look at the Writing Guidelines that we offer.
Support Us
If you would like to find out how to support Bluestocking, please contact the Editor via email: